Social Innovation Fellows
---
May 2018 - present

All 12
NC State Colleges Represented
5
Interdisciplinary Cohorts
A selection of teaching materials, interactive tools, and presentation content I've developed for the program.
In an effort to foster an innovative spirit and embody the power of transdisciplinary teamwork, I helped develop the Social Innovation Fellows at NC State University. The SI Fellows program is a year-long co-curricular experience where interdisciplinary teams of students work with social enterprises to help broaden the venture's impact. I joined the university's Social Innovation and Entrepreneurship team in 2018 just after the inaugural cohort graduated. Through working with the program director, I integrated design thinking ideology into their course of study and helped developed a curriculum that empowers students to make change locally and globally. The Fellows program is now beginning its fifth cohort and has produced over one hundred graduates with a more holistic understanding of how design can change the world.
In my time working with the Social Innovation Fellows, I also created a brand identity system that
can be viewed here.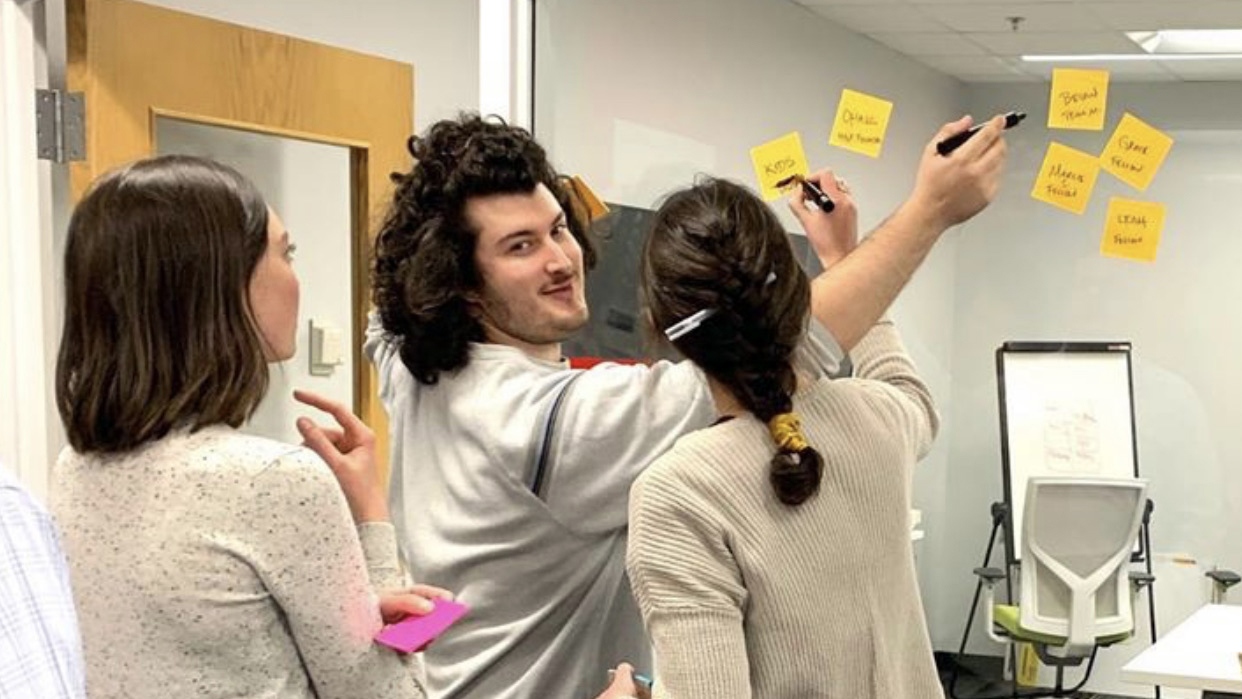 Teaching Assistantships
---
May 2019 - present

800+
Hours of Mentorship Provided
150+
Design Students Mentored
6
Design Classes Assisted
GD 490 — Greece: Design and Social Innovation
Professor Scott Townsend — Summer 2019


D 104 — First Year Studio I
Professor Fernando Magallanes — Fall 2019


GD 317 — Typography II

Professor Kermit Bailey — Spring 2020


D 104 — First Year Studio I
Professor Michael Bissinger — Fall 2020


GD 317 — Typography II

Professor Kermit Bailey — Spring 2021


GD 400 — Collecting, (Re)collections, Collectives
Professor Kermit Bailey — Spring 2021


Each class I have worked in has challenged me differently and pulled new strengths to the surface to become a well-rounded teacher and mentor. Teaming up with Professor Scott Townsend in GD 490, I guided a group of multidisciplinary design students through a variety of self-directed projects while studying abroad in Kefalonia, Greece. I excelled in my role as a mediator between foreign stakeholders and guest speakers and the students. I have had the opportunity to take a leadership role in two semesters of foundational design studio classes, D 104, under two respective professors. In these classes I learned how to communicate with students without using design jargon. I helped put words to ideas generated by students: challenging them to contextualize their creativity, work collaboratively, and be successful in any design discipline they pursued in their next semester. I have also worked with Professor Kermit Bailey in two semesters of GD 317 Typography II. The students of this class were all graphic design majors in the adolescence of their student careers. This class required a focus on logistics— requiring demos in software such as InDesign, Adobe XD, After Effects, etc. The content of my critiques changed from broad design principles to specific design guidelines and behaviors. Finally, rounding out my experience to cover all the undergraduate academic years, I assisted with the senior-level studio course GD 400. This class brought me full circle in a focus on mentorship similar to that of the freshman foundational studio. I guided students through a reflection of their entire undergraduate education and prepared them for graduation and their lives as young professionals.
Design Workshops
---
Data Ownership Auction
Team: Ab Feldman — October 2020
A commentary on the value of personal data, this workshop challenges its attendees to consider the price of anonymity and how well they know their peers. Each person submits recent data (location pings, purchases, and browser search history) which is then scrubbed of any identifying information and assigned a color. The codified data is then randomly sold at a "data auction." The goal: correctly identifying the most amount of people by connecting bought and accrued color-coded data with personal knowledge on the other attendees.
"Revitalization:" A political divide
November 2019
This workshop used a closed card sorting method of participatory design, engaging a multidisciplinary group of students about local park development. Teams were asked to organize preselected terms into
must have, could have, should have,
and
won't have
categories depending on their opinions on adding a park to Raleigh. After sorting was completed, the teams were then informed about the planned location of the park. Planned for a low-income section of town, adding the park had the potential to further increase housing prices in the neighborhood. The groups were then asked to recategorize and add new terms according to this new information and discuss why those adjustments were made.

---
Inclusive Design and Technology
January 2019
As a part of the symposium
re:Act, Mobilizing the Everyday,
I presented a lecture on mobile assistive technologies for the visually impaired. The presentation critiqued current "inclusive" technologies— explaining how they perpetuate stigmas and proposing interventions to combat them. After the presentation, attendees were invited to participate in a paired workshop that explored and challenged the limits of current technology for the visually impaired— specifically, earcons, spearcons, and other audible cues in relation to wayfinding and accessibility.
To read about the symposium as a whole,
read the article published by the College of Design here.

---
Future-making for high school students

Team: Grace Herndon and Ashley Anderson — August 2019
The goal of this workshop was to challenge high school students to understand and apply the concept of futurespective thinking— rethinking the past in the present in order to point to the future. My team decided to contextualize futurespection for high schoolers as a way to practice multi-solution thinking as a tool for grappling with political complexity to produce more informed first-time voters. The students were asked to write down a preposterous future scenario and the year they proposed it may take place. Then another student took that scenario and worked backward to the present in a series of rational steps. As a reflective exercise, the team then designed a graphic from the perspective of their future introducing their world as normal. The workshop showed the high school students the plausibility of even the craziest political possibilities.
Project Development
---